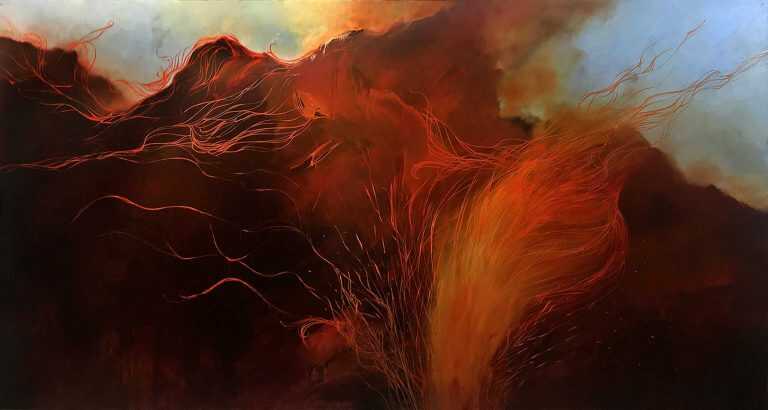 What Stands Before Us: Art in Quarantine
Press Release:
What Stands Before Us: Art in Quarantine is a group exhibition of art created during the Covid-19 pandemic. The exhibition encompasses the wide range of subjects that artists have personally grappled with during quarantine, including social isolation, the global health crisis, racial injustice, and climate change. This unprecedented time has brought new focus and greater urgency to the many challenges we face.
The exhibition takes its title from a line of Amanda Gorman's inaugural poem, The Hill We Climb. This poem captured a powerful moment in a tumultuous year, delivering a message of hope and perseverance to a nation reeling from a global pandemic, political tension, and racial injustice. Gorman implores us to: "lift our gazes, not to what stands between us, but what stands before us"; to confront together the many threats to our future.
The Covid-19 pandemic and the events of the past year have led many artists to likewise shift or intensify their gaze. This year of isolation and reflection, of political tension and social upheaval, has brought into greater focus the many issues that currently stand before us, whether personal, political, societal, or global.
Featuring work by sixteen contemporary artists, What Stands Before Us documents a turbulent year through paintings, prints, photographs, and works on paper, each piece telling the story of its creator's experiences. Robert Freeman, best known for his celebratory and joyful images of Black life, found he could not ignore our country's current racial reckoning after the murders of George Floyd, Breonna Taylor, and countless other Black men and women at the hands of police. His diptych Struggle, viscerally depicting two lynchings, is part of his newest series Our Struggle, which directly addresses the artist's indignation at the violent racial divide within our country. "As a visual artist releasing my anger, outrage and sadness has resulted in these canvases. This is a creative eruption of deep and vast emotional frustration."
Karen Lee Sobol's Germ of the Month watercolors reference medical journals, recalled from childhood, which featured magnified photos of microscopic organisms on the back cover. The images terrified her as a child, and took on haunting new meaning in the spring of 2020 as news continued of the Covid-19 virus's rapid spread. Sobol's images are bright and beautifully abstract, belying the deadly nature of the organisms they portray.
During the lockdown in Italy, Jorge R. Pombo used his solitude to start a series long on his mind: mixed media variations on John Singer Sargent's The Daughters of Edward Darley Boit. Pombo wanted the darkness prominent in Sargent's painting to feature as the central protagonist in his works. As his city of Reggio Emilia experienced the stillness of isolation, Pombo painted the collective "nothingness" of social distancing as an unpredictable and unsettling black void marring the familiarity of Sargent's work.
In addition to those mentioned, the exhibition will include works by David Avery, Resa Blatman, Thomas Darsney, Paul Endres Jr., William Evertson, Andrew Fish, Sean Flood, Jillian Freyer, Joan Hall, John Thompson, Margaret Rose Vendryes, Anthony Peyton Young, and Sara Zielinski. Though each artist tackles the events and hardships of the past year through the lens of their individual experiences, they also urge us to consider the issues that stand before us as a collective whole – a potentially mighty force with which to confront the problems that threaten our future.
On exhibit until September 3rd, 2021