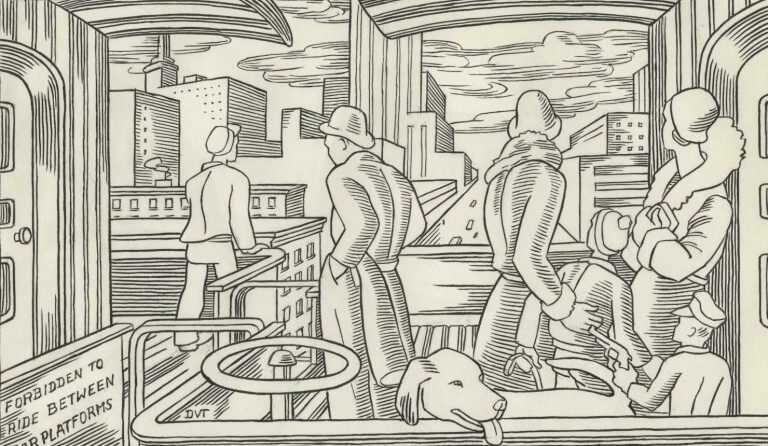 Dudley Vaill Talcott
American (1899-1986)
Dudley Vaill Talcott was born in Hartford, Connecticut and attended one year at Yale University's Art Department. In 1920, Talcott went to Academié de la Grande Chaumière in Paris, France. There, he studied drawing and sculpture in open classes without seeking a degree.
In 1925, Talcott traveled to Norway for six years while still working on sculpture in the United States during the off-season. Two books: Noravind (published in 1929) and Report of the Company (published in 1936) came from these six years. The first of these is about his Talcott's canoe trips on the Norwegian fjords; the latter documents his experience on a North Sea fishing boat. By 1927, Talcott was exhibiting in New York City; first at Valentine Dudensing Galleries in February 1927 followed by the National Academy of Design in March-April, then at The Museum of Modern Art in 1930, The Art Institute of Chicago in 1938, The Whitney Museum in 1938-40 and the New York World's Fair of 1939.
Of the Dudensing show The New Yorker said in February 1927: "We heard recently that if America ever produced a sculptor it was in the person of Dudley Talcott… There seems to be considerable justification for the claim. To us the usual classic copy is just so much Rogers Group; the departures, rather efforts to dissent than any conscious attempts at creative conception. But Talcott has departed and has still clung to the thing that gives power and beauty. Don't ask us to explain. For we for we have no chart for this branch of art. We only know that Talcott's things gave us a feeling akin to the one we had when we first stood before Maillol."
From this point, Talcott worked on private large-scale commissions such as fountains, but still continued making smaller pieces of a more personal nature. Talcott died in 1986 in Farmington, Connecticut, his home since 1935.