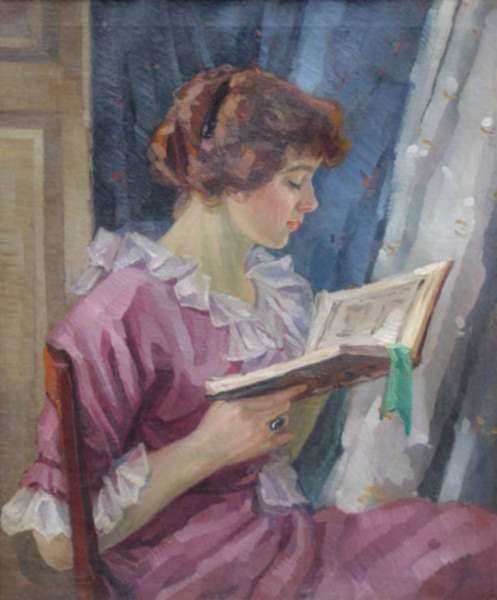 Oscar Fehrer
American (1872-1958)
Oscar Fehrer, born in Brooklyn, New York, in 1872, began his artistic training at the National Academy of Design where he was a student from 1892 to 1895. His talent for painting and drawing was manifest early in his career; the National Academy awarded him the Elliot Medal in just 1894. In 1895, he traveled to Munich and studied at the Royal Academy until 1897. Following his stay in Munich, Fehrer resided in Paris and studied at the Academie Julian where he was awarded an honorable mention for his work.
Having sharpened his skills as a painter at these German and French schools of art, Fehrer returned to America in 1900 and established a studio in New York City. In 1903, the artist became a member of the prestigious Salmagundi Club, and married Mabel Vanderbilt of Brooklyn in 1905. He held his first one-man show in New York City at the Collins Gallery in 1907 exhibiting portrait studies in charcoal of European types made during his trips abroad. Fehrer was also a member of the National Arts Club, the Connecticut Academy, the Springfield Art League (Mass.) and the League of New York Artists.
The artist returned to Munich in 1910 and for four years maintained his studio there. He exhibited at the Glass Palace in Munich in 1912 and at the Munich Secession in 1913-14. Fehrer left Germany for the United States soon after and hereinafter maintained his winter studio in New York City and his summer studio in Lyme, Connecticut. He exhibited frequently throughout his career at the National Academy, the Connecticut Academy and in the annual exhibitions of the Allied Artists of America. This talented artist died in New York City in 1958. His works are now in many fine public and private collections including those of the Wadsworth Atheneuam, Hartford, CT.; Lowell Memorial Art Gallery, MA; Rutgers College, New Brunswick, NJ; John H. Vanderpoel Art Association, Chicago; and the Lyman Allyn Museum, New London, CT.