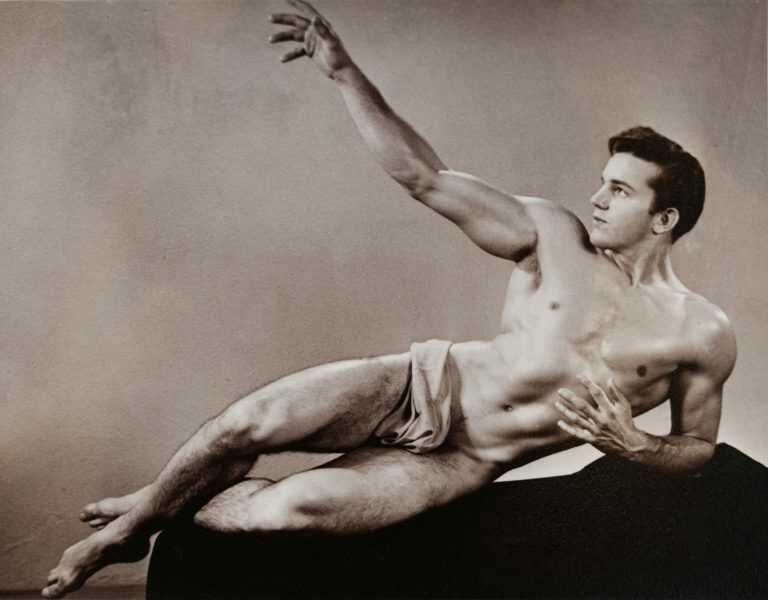 Gaze: A Pictorial History of Physique Photography
Press Release:
Gaze explores the evolution of physique or 'beefcake' photography, from its earliest inception within the bodybuilding community, to ambiguously referential Classical-posed imagery, to its final incarnation as explicitly homoerotic material directly marketed to a burgeoning gay community. Artists featured include luminaries of the genre, such as Gregor Arax (Studio Arax), Bruce Bellas (Bruce of Los Angeles), Alonzo Hanagan (Lon of New York), Bob Mizer (AMG Studios), Al Urban, Don Whitman (Western Photography Guild), and others. These individuals were not only pioneering photographers, but also savvy businessmen and some of the earliest gay rights activists, changing the status quo for gay men by challenging morality and censorship laws within the US.
The early 20th century saw a rise of interest in physical culture, a side effect of the rapid urbanization of society, wherein the traditional hallmarks of masculinity became increasingly both immaterial and inaccessible to white, middle-class men. Thus, new markers of masculinity were born, such as playing sports and the maintenance of a muscular body. By the 1930s, a robust number of magazines dedicated to bodybuilding were in circulation, and their large gay fanbase was an open secret. Enterprising photographers, finding their suggestive material barred from 'respectable' physique periodicals, eventually struck out on their own, launching magazines that specifically catered, through coded innuendo, to homosexual audiences.
With the inception of magazines such as Physique Pictorial, VIM, Tomorrow's Man, and Grecian Guild Pictorial, photographers shifted their images away from the heavily muscled bodies of professional weightlifters to a more aesthete look - models with natural builds in posing straps, scant thong-style undergarments. The posing straps helped to skirt around existing obscenity laws - as gay pornography was illegal, these publications continued to operate under the pretense of interest in health and fitness, and the models were accordingly 'clothed.' The magazines, therefore, were able to be widely available at newspaper stands, bookstores, pharmacies, and through the mail.
Physique models were often complemented on set with costumes and stage dressing, further distancing beefcake magazines from their bodybuilding forebearers. Playfully attired as gladiators, sailors, and cowboys, the images alluded to traditionally masculine figures and pursuits, while titillating their audience through fetishistic insinuations. Poses also frequently referenced the art and culture of Classical Antiquity and the Renaissance. Allusions to ancient sculptures of gods and athletes, as well as Renaissance paintings – the bound St. Sebastian being a favorite – helped downplay the salacious nature of the photos, while also beautifully demonstrating the artistry of studio photographers. Classical Greece was a particularly popular reference point, with some magazines espousing nostalgia for Hellenism where "the body of a muscular, graceful, well-proportioned youth was among the most admirable of all things."
The enticing photographs within these periodicals were often a youth's first foray into wider gay society. Publications fostered an immense sense of community with their audiences, encouraging readers to correspond both amongst themselves and with the models. Subscribers were also given access to a larger network of gay consumer culture including books, artwork, recipes, clothing, music, and film. The increasing sense of identification as a group was bolstered by an atmosphere of friendship and inclusion, though racial exclusion continued, mostly perpetuated by the customers rather than publishers.
Beefcake magazines and related materials like pen-pal clubs eventually drew the ire of the US Postal Office, and crackdowns began targeting both individual consumers and larger organizations. Supreme Court cases One, Inc. v. Olesen (1958) and Manual Enterprises, Inc. v. Day (1962) saw publishers fight against obscenity charges and win landmark decisions allowing for the open distribution of male nude imagery. Without the impediment of illegality, physique magazines again shifted to a more open depiction of sexuality, including explicit frontal nudity.
The Supreme Court decisions in favor of physique and gay publishers would, however, ultimately usher in the decline of beefcake magazines. With gay pornography essentially decriminalized, male nude photography dropped the pretext of fitness, allowing a new generation of photographers to produce high quality male erotica available to be sold commercially. Liberation from morality laws also enabled male nude photography to enter the world of fine art and paved the way for celebrated artists to sensitively explore the male form in their works.
Gaze surveys physique photography through its early years in the 1930s to its heyday of the 1950s and early 60s. Though once denigrated for their subject matter, beefcake photographers are now being reassessed: their works reexamined based on artistic merit and themselves recognized as trailblazers championing the beauty of the male form at a time when it was dangerous to do so.
On exhibit until May 26th, 2023