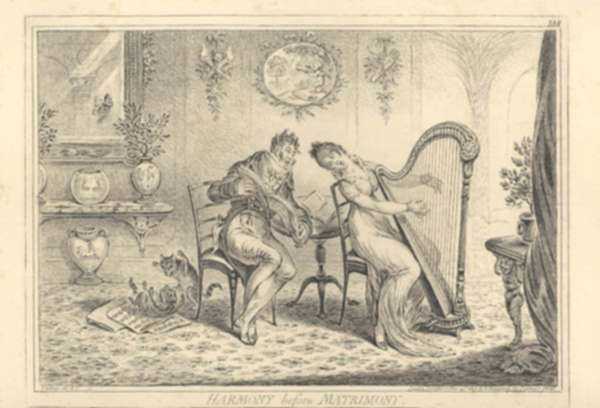 James Gillray
British(1757-1815)
The work of James Gillray exemplifies the golden age of English political caricature, spanning from the start of the American Revolution through the four decades that followed. The popularity of Gillray's work spread beyond England to France, the United States, and Ireland. In 1806, one German journalist even called him "the foremost living artist in the whole of Europe" (Hill, Fashionable Contrasts).
Gillray was born in the London neighborhood of Chelsea on August 13th, 1756 to James and Jane Gillray. He was their only surviving child of five. The Gillrays were strict members of the Moravian Brotherhood, an extreme Protestant group that glorified death and the afterlife. Death during childhood was considered good fortune and sickly children were often deprived of medical care. At age five young Gillray was sent away to the Moravian Academy for boys in Bedford, although he remained there just three years. The school, troubled financially, was forced to close in 1764. Gillray's formal education seems to have ended at that time, before the end of his eighth year. He became the apprentice to a successful writing engraver, but found the work tedious. He left the shop and for the extent of his developing years, Gillray lived the Bohemian lifestyle, traveling with a group of strolling players. By 1775, he had returned to London where he slowly began producing satirical prints. Fellow caricaturist and friend George Cruikshank described Gillray as a "furious etcher" (Hill, Fashionable Contrasts), often working until his fingers bled. However, Gillray was an unassuming and self-concealed man, occasionally suffering from bouts of manic-depression.
Gillray was accepted to the Royal Academy in 1778 and by the 1780s he was consistently producing and including his signature in engravings for novels and political portraits. He became a frequent visitor to the House of Commons, where he studied the facial expressions and idiosyncrasies of the politicians. He focused on features and deformities and used them to reveal the personality at hand. Gillray also began to use the affairs and activities of the Royal family for subject matter. Prime Minister William Pitt and the philandering Prince of Wales are just two of the many victims of his satire. His caricatures of John Bull, a symbol of the Englishman, and the buxom Lady Britannia, representing Britain herself, can be seen over and over in Gillray's publications. Although the caricaturist was capable of such irony and mockery, his own political views were somewhat ambiguous, perhaps a result of his own introversion. As modern cartoonist Draper Hill explains, Gillray developed the ability to "strike simultaneously in two (or more) directions and to mask his own opinions beneath layers of irony and cynicism" (Hill, Fashionable Contrasts). As well, the subjects and ideologies that he used were often chosen for financial reasons: the cynicism and satire had to sell.
In 1791, Gillray secured a partnership with a London publisher, Mrs. Hannah Humphrey, and soon after joined residence with Mrs. Humphrey above her print shop. The 1790s mark the most active and successful of Gillray's career. Whereas he previously included his signature with the inscription "d: et f" denoting that he was given outside contribution to his ideas, at this time he signed the majority of his publications with a signature of full authorship (Js. Gy. inv: et fect). Many of Gillray's most popular and ingenious of satires were created at this time, including "The Weird Sisters" and "The Lover's Dream."
As the 19th century opened, Gillray's eyesight began to fail him. After years of working in such tiny detail, he found his new etchings to be less then satisfactory. His production fell, as did his spirits, and what had been a history of heavy drinking became complete intemperance. In 1807, he produced just one plate and once again denied full authorship for his work. His depression took control and, despite a visit to a psychiatric hospital in 1807, he slipped into a state of insanity that persisted until the end of his life. In July 1811 Gillray attempted unsuccessfully to throw himself out the attic window of Mrs. Humphrey's print shop. He died just four years later, on June 1st 1815. George Cruikshank attended the burial and, in the time that followed, completed a handful of Gillray's unfinished plates.
Compiled by Hannah Blunt