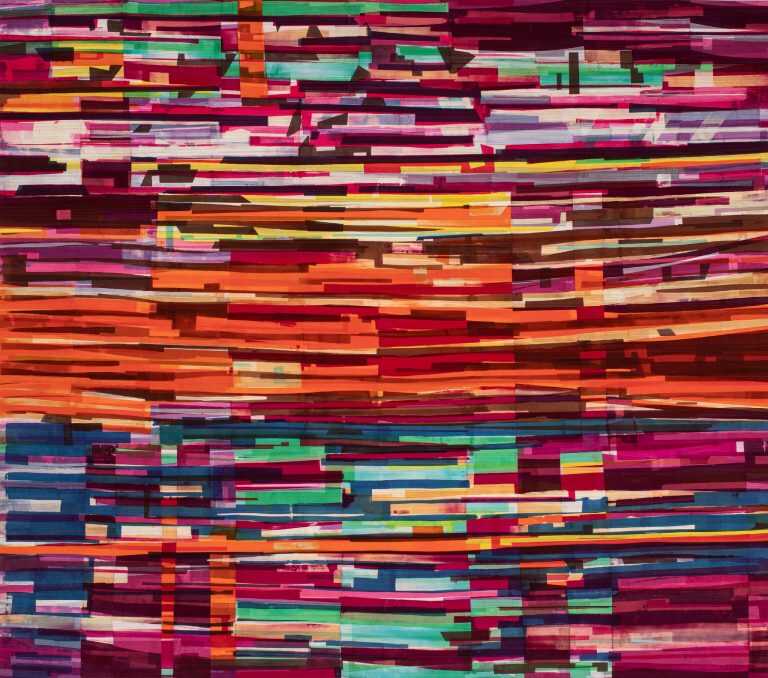 Interlaced: The Fabric of Art
Press Release:
What makes one object a work of art and one object a work of craftsmanship? The answer is steeped in decades of discourse that touches on issues of economic, gender, and racial inequity.
Interlaced: The Fabric of Art is an exhibition of fiber artists connected through a shared commitment to the rigor of craftsmanship and high quality artistic and aesthetic achievement. Objects thought of as functional become aesthetic and the aesthetics then beget further functionality. What is a tea towel you don't wipe the corners of your mouth with? A quilt that doesn't live on your bed? A pair of swimming trunks you cannot wear to the beach?
The materials at play in fiber arts inevitably evoke questions of materiality, domesticity, social class, and accessibility, and textile exhibitions often find themselves laden under this framework. Examining the contextual realities surrounding fiber works is, of course, not only incredibly important but also integral to the history of the artform. Interlaced acknowledges this truth, but also strives to further ask its audience to consider the aesthetics on display. The exhibition elevates the work of textile artists beyond the trappings of the often singular function of social commentary and into an overdue position of holistic artistic expression. The materials are not separate from the work. The artist's hands are present. The alchemy of this reality is the object in front of you. In Interlaced, artistry is just as paramount to the experience as the who and the why – the artistic value inseparable from the historical context.
Though fiber shows are not new to Boston, Interlaced marks the first exhibition of its kind at Childs, one solely highlighting textile arts. The show does, however, follow the gallery's longstanding practice of featuring traditional artistic media both by historic and contemporary artists. Paintings, sculpture, photography, prints, and various other works on paper have been on view throughout the gallery's eighty-six years in operation; Childs is pleased to now add fiber arts to our storied inventory.
The exhibition will include art quilts by Rodger Blum, lace work by Pierre Fouché, weavings by Christine Jablonski, needlepoint by Natalie Hays Hammond, an appliqué by Samuel Ojo Omonaiye, and additional works by Patrick Carroll, Alexander Davis, Fidencio Fifield-Perez, Andrew Sedgwick Guth, Joan Hall, and Alison Saar.
Please join us for an opening reception with several featured artists in attendance, Friday, November 17, 2023. Interlaced: The Fabric of Art is on view November 16, 2023 through January 6, 2024.
On exhibit until January 6th, 2024