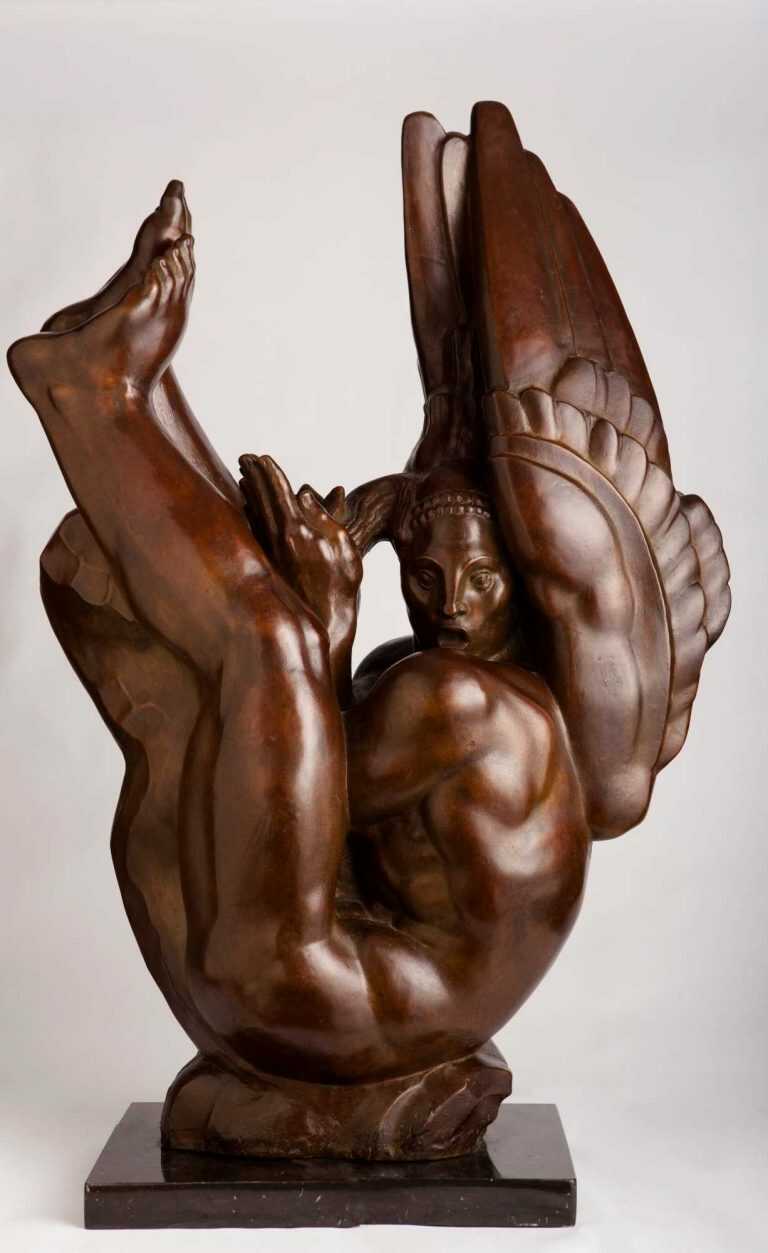 Donald De Lue
American (1897-1988)
Born in Boston in 1897, Donald Harcourt De Lue created, in a career spanning sixty years, more monumental sculpture than any other recent American artist, and is regarded as one of America's greatest monumental sculptors in the Realist style in the twentieth century. His works include: Rocket Thrower, executed for the New York World's Fair of 1964; The Spirit of American Youth, for the Omaha Beach Memorial, Normandy; Quest Eternal, at the Prudential Center in Boston; Washington at Prayer, at Valley Forge, Pennsylvania; and three of the monuments at the Gettysberg Battlefield. An accomplished draftsman, De Lue also created an extensive portfolio of designs on paper (over 2,000 in total) that inspired or related directly to his three-dimensional works, as well as a limited number of drypoint prints between the years 1933 and 1934.
At age twelve, De Lue apprenticed with Boston sculptor Richard Recchia, and later with Bela Pratt and Robert Baker. His relationships with these artists replaced his troubled familial ones, and gave him his first introduction into the art world. Under their guidance, he would learn to sculpt the human figure, from memory, with accuracy. He was now free to break away from strictly literal interpretations of his subject matters, and to create sculpture as he thought it "should be. In the aftermath of WWI De Lue moved to Europe, where he spent several years developing his craft in Paris and Lyon. Here he worked for the Italian sculptor Alfredo Pina, and was influenced by the works of the romantic sculptor Emile Antoine Bourdelle (both were former students of Rodin).
Returning to New York determined to make a living through the practice of his art, De Lue found work as an assistant to British portrait sculptor Bryant Baker, with whom he honed his skills on a wide range of projects from 1923-1938. During these years, De Lue was known as a "sculptor's sculptor," known behind the scenes in the art world as a master of anatomy and often completing the anatomical portions of Baker's commissions. By the late 1930's, he had developed his mature style, and his own career began to flower.
"His sculpture demonstrates artistic links to both Greco-Roman and late Renaissance sculptors," writes Jonathan L. Fairbanks, Emeritus Curator of American Figurative Sculpture Catalogue, Museum of Fine Arts, Boston. "He emulated the exuberant gestures and energetic composition such as those found at Pergamum. The mature Michelangelo especially inspired De Lue to compose his figures with mannerist proportions, emphasized with highly articulated musculature. However, by combining these older influences with the ideas and techniques acquired during his stay in Europe… De Lue developed his own synthesis. As he admitted, 'Although my work is traditional, it is a tradition of my own'." The same may be said of his drawings, which exhibit similar design theories.
De Lue was president of the National Sculpture Society (1945-1947), a Guggenheim fellow (1943-1944), and in 1964 received the Harry Herring Medal and Golden Plate Award from the National Sculpture Society and National academy of Achievement, respectively. In its use of national symbolism, classical mythology, and the personification of spiritual ideas, his work, though squarely within the figurative tradition, possesses a depth of meaning beyond the sheerly literal. A leader of the traditionalists in controversies pitting them against modernists for commissions, museum shows, and critical recognition, he outlived his bitterest foes to gain new recognition and new audiences. His exquisite craft, special vision, and artistic dedication have made him one of the greatest of American traditionalists, whose monumental and commemorative sculptures are appreciated by all who hunger for masterful craftsmanship and classical values in art.
For additional information see D. Roger Howlett, The Sculpture of Donald DeLue : Gods, Prophets, and Heroes
For information on De Lue's drypoint prints, see www.raisonne.org